Sponsorship
Leadership brands have two chief imperatives: stay informed; stay involved. But where are all the industry's movers and shakers? Which are the sleeping giants, and which are the up-and-comers? What will the next great innovation look like, and where will it come from?
These are the questions that inspired Disruptathon—an interactive forum that brings together the most disruptive forces in an industry, in a quest to write the story of that industry's future.
Disruptathon sponsors reap the benefits of total industry immersion, intelligence, and connectivity with the companies and people that matter most. Access to the thought leaders themselves, to exclusive pre and post event data, to the attendees, and to the flight path of an industry to help build, shape, and discover the future. Whether it's marketing, investing, recruiting or business development, Disruptathon events are an ideal place to get the job done in a new and refreshing way.
How our events work:
Disruptathon partners with sponsors interested in attracting innovators to their brands by focusing on vertical industries and technology areas that are experiencing disruptive shifts and growth opportunities. We then build compelling events for that industry that include a thought leadership and contest element.
Typical event agenda:
•    noon-5pm – industry thought leadership conference
•    5pm-6pm – cocktail reception
•    6pm-8pm – dinner and contest program
•    8:45pm – awards presentation
•    9pm – adjourn
Sponsorship packages are priced on a per event basis and include the following designations and deliverables.
Startup:
Available at select events, this sponsorship is designed and priced to allow budget conscious companies to gain access to the event and market their brands.
Diamond "Breakthrough" sponsorship:
Our highest level designation is reserved for brand partners who wish to take ownership of a Disruptathon event as a strategic marketing program. Breakthrough sponsors participate fully with Disruptathon staff in the planning and design process to ensure the event meet their desired objectives. Deliverables include access to all pre-event research data, presenter applications, registered attendee lists and post event reports. This level also includes live event participation including select presentations and speaking opportunities.
Platinum "Disruption" sponsorship:
Our second highest designation allows brands to capitalize on a scheduled Disruptathon event with special access to pre and post event data and attendees. Ideal for marketing, recruiting and positioning a brand as a thought leader of an industry.
Gold "Innovation" sponsorship
The innovation sponsorship is ideal for brands who's mission it is to be wherever the cutting edge of innovation lies. The Innovation sponsorship provides brand recognition and special access to the event and post event reports.
Disruptathon add-on – attendee survey.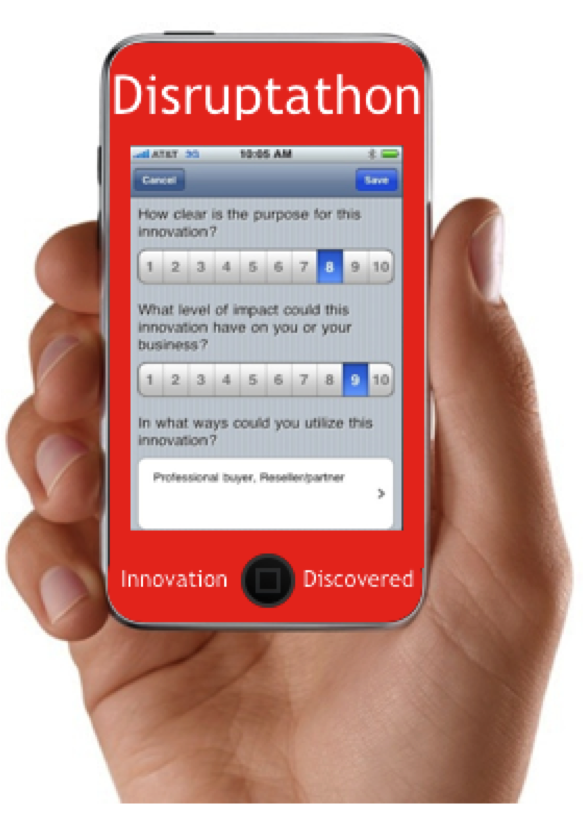 Leverage the power of the Disruptathon Innovation Discovery Platform to survey attendees at an event. Whether its recruiting or marketing your products or service, this is an unparalleled opportunity to interact with our audience to advance a sponsorship agenda. Sponsors receive a customized survey report that includes contact information for those who opted in for follow up.
"Disruptathon is unlike anything else Millennial Media sponsors. Not only are the events a blast, the follow up reports and contacts have a measurable impact on our business."
Kerry Nagle, VP Publisher Services – Millennial Media